How to travel
Welcome to Finland!
Useful things to start with
English is widely spoken in Finland
Distances can be long when travelling in Finland
Tap water is drinkable and good quality
Finland has four seasons: summer, autumn, winter, spring
Tipping is not customary in Finland  but of course it is a nice gesture if you are happy with the service
Banks are closed on weekends
Museums are often closed on Monday's
Public holidays can affect opening times in museums and other sights. Please check them prior making your travel plans in order to avoid disappointment during your trip
Eat, drink and shop in Finland
The opening hours of shops vary a lot depending on the location and type of the shop. In cities grocery shops are open late in the evening and also on Sundays. Other shops close between 18-21 and many of them are open on Sundays. In the countryside the opening hours may be more limited. On public holidays most of the shops are closed, however in Helsinki there might be some exceptions but please always check beforehand. Stores sell only mild alcoholic drinks such as beer and cider between 9-21. Wine, spirit and other alcohol are provided by Alko, the state-owned company with a good network of stores. If you decide to visit restaurants whilst your stay in Finland, it's good to know many of the restaurants are often well equipped regarding children. Therefore you can often find highchairs, play areas and children's menus as well.
Everyman's Rights legal concept in Finland
That means, everyone is free to enjoy the nature, regardless of the landowner. You can walk in parks and forests and wander on nature trails, you can pick berries and mushrooms, swim in lakes and rivers, canoe and camp in forests. However, the house yards and home gardens are exceptions to the rule, so keep a decent distance to anyone's home. Nature conservation areas such as national parks, limit these rights as well. In addition fishing might require a permission. Also always remember to take trash with you to keep the wonderful Finnish nature as nice to other visitors as it was for you. For more information please visit Ministry of the Environment website and download a booklet that explains Everyman's Rights in more detail.
Experiencing Sauna as part of the Finnish culture
Sauna is an essential part of Finnish culture. While in Finland it is an experience worth a try, especially if combined with open water swimming. Sauna is also considered to be good for your health. Generally people go to sauna in the nude – it is natural for Finns even with strangers. Usually when going to sauna privately, there are different turns for men and women. If not, it is possible that swimsuits are worn, but that depends on the group. Public saunas are divided into different facilities for men and women or possibly swimsuits are worn. If you feel uncomfortable, taking a swimsuit or a towel would be ok. You can experience sauna also in some of the Aalto destinations, for example in Mill Manager's residence and beach Sauna in Sunila, Kotka and Riverside Sauna in Kauttua, Eura. Please note that advance booking is required for both! You can find sauna's in most of the public swimming halls as well. Alvar Aalto also designed a swimming hall, nowadays called AaltoAlvari, which is located in Jyväskylä and it is open for visitors all year round.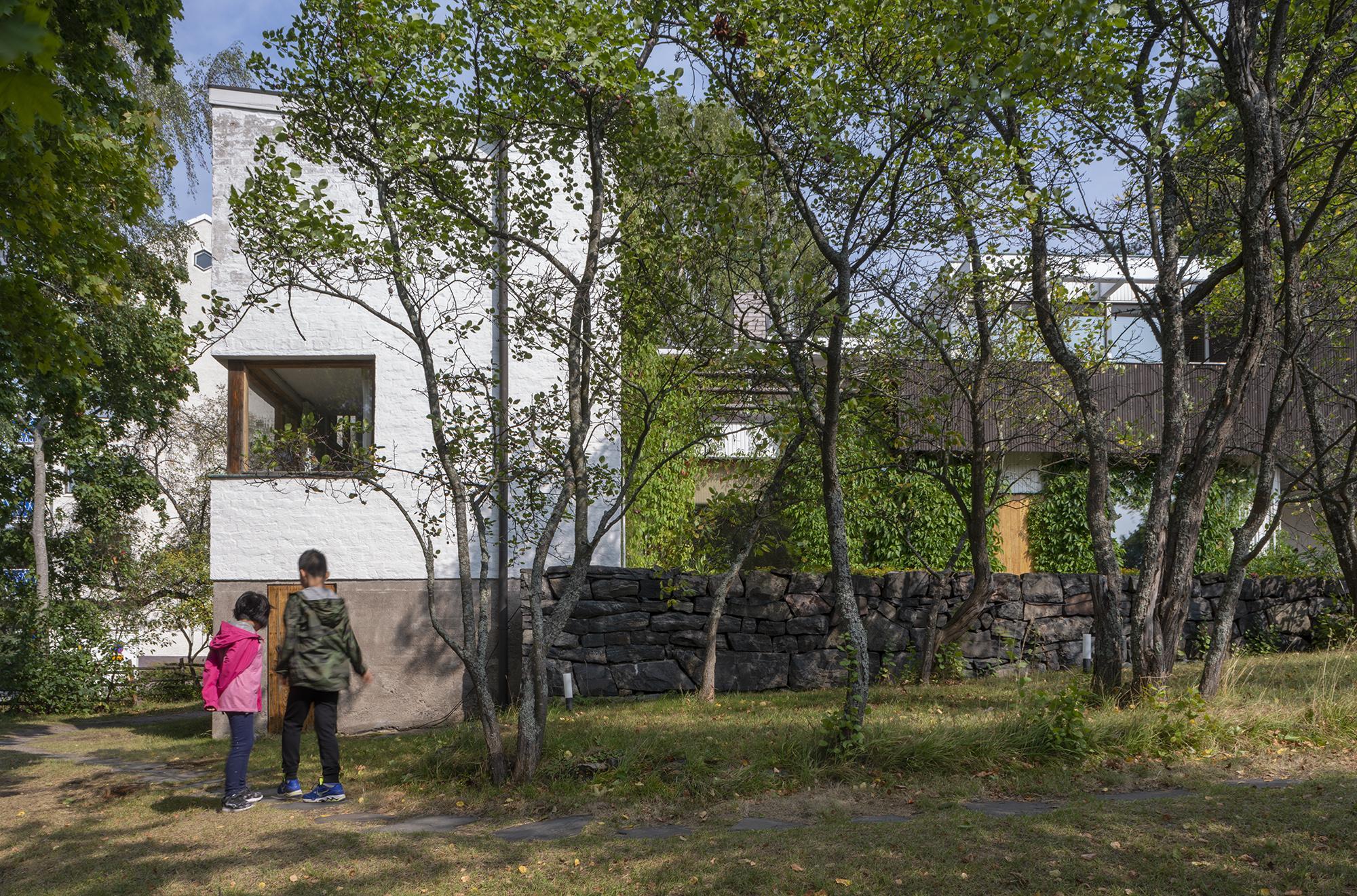 The Aalto House in Munkkiniemi, Helsinki. Photo: Maija Holma, Alvar Aalto Foundation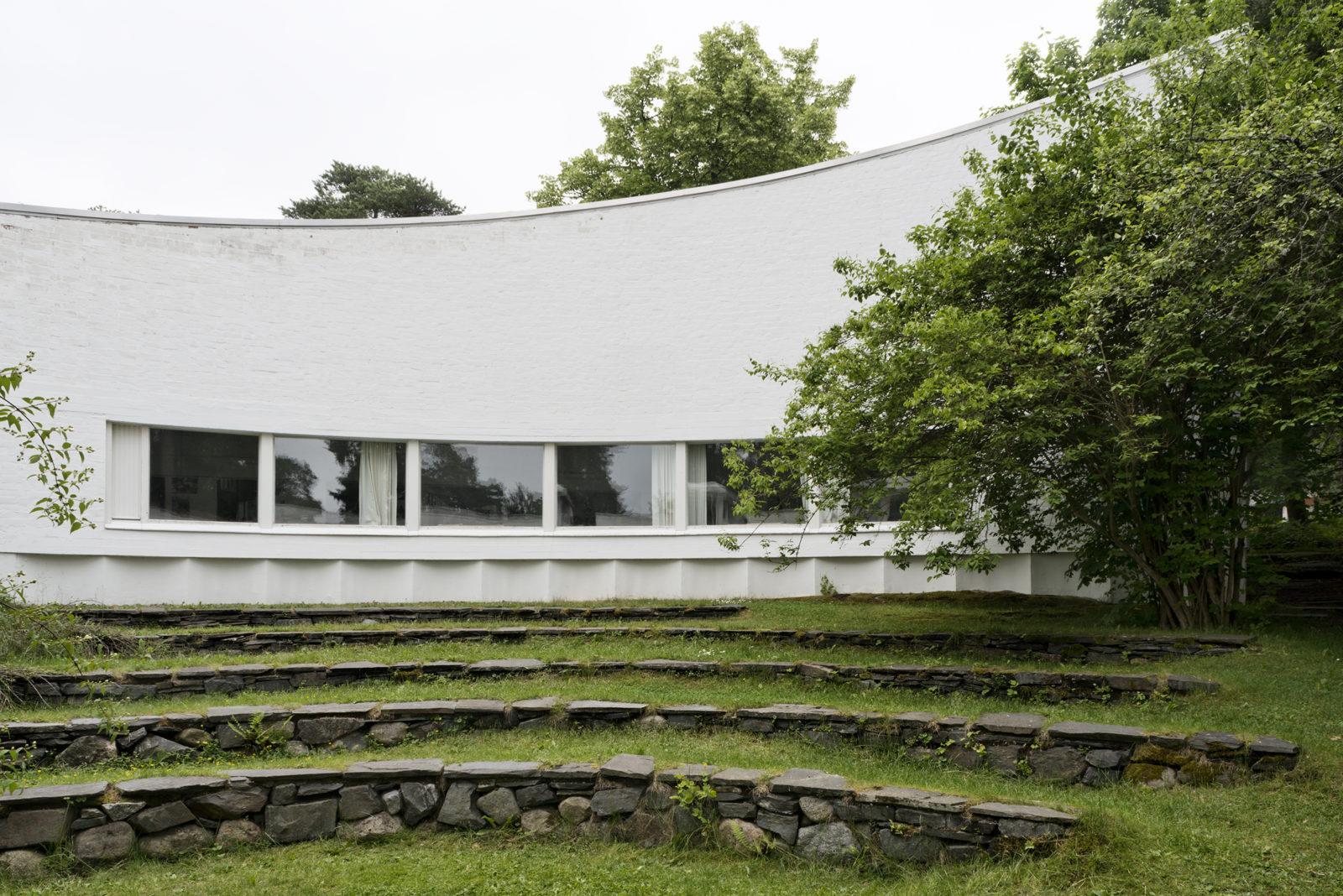 Studio Aalto in Munkkiniemi, Helsinki. Photo: Maija Holma, Alvar Aalto Foundation
When planning your trip to Finland, please note that the distances can be quite long. Vertically from North to South Finland is 1,160 kilometres (720.80 miles) long and horizontally from West to East 542 kilometres (336.80 miles) wide. 
More information
Learn more about Finland!
Learn more about Finland on Visit Finland website. You can find descriptions of the different parts of Finland, find out more about culture, events and travel and even learn how to rent a local Finn as your travel guide!
Getting around in Finland
When planning your trip in Finland, please note that the distances can be quite long. Vertically from North to South Finland is 1,160 kilometres (720.80 miles) long and horizontally from West to East 542 kilometres (336.80 miles) wide. For example the distance from Helsinki to Jyväskylä is approximately 270 kilometres. The distance from Helsinki to Rovaniemi it is about 820 kilometres. Finnish public transport in general is reliable and the coverage of train and bus networks is good.
You can reach most of the Aalto destinations by train, bus or combination of train + bus and some even by air. Please find more detailed instructions about travelling to Aalto destinations on the main Visit Alvar Aalto site on each destination's information page. For example from Helsinki there are flights to Jyväskylä, Seinäjoki and Rovaniemi. For example you can reach Rovaniemi from Helsinki in less than 2 hours by air plane. However, please note that quite often domestic flights operate only once or twice a day in the mornings and in the evenings. Train and some bus service providers also offer online booking on their sites which is also recommended.
Also most cities in Finland have their own websites with timetables, prices and information about public transport in their city. A handy feature at many sites is a Reittiopas – Journey Planner, where you just need to enter the addresses of your origin and destination, and either your departure time or arrival time, and the Journey Planner will give you several options for making the trip. Upon arrival to smaller cities in Finland please note that sometimes taking a taxi might be the most convenient way from station to your final destination. Usually taxi stations are located close to the main stations in most cities.
In addition to using trains, buses or planes to get around in Finland, renting a car is also an idea you might be considering. There are however things you should consider before driving in Finland. Firstly the traffic in Finland is right-handed and your car needs to have headlights on during the daytime as well. Roads in Finland are in general well maintained and traffic jams are rare, except occasionally in the capital area. In rural areas there is often little traffic  – A summer night drive through the light and lush landscape under the pastel sky can truly be an experience!
However, you should always watch out for the elks and reindeers in Lapland. Elk tend to be on the move at dusk and dawn and may wander or run to roads. Same thing with reindeer however they tend to wander any time of day. Please also note that if you notice an oncoming driver flashing their headlights, it can mean that there are animals on the road ahead, your car have its high-beams on, or something else to watch out. Finland is sparsely populated, but you most likely find someone to help you in case of emergency even on the road. But it might be a good idea to check the gas stations in advance if taken a long trip.
Practical information about Finland
If you get sick while travelling in Finland
If you need a doctor or medical care in non urgent matters you can contact either the public of private health care providers. Please note that visitors with European Health Insurance Card can use Finnish public healthcare. For accessing treatment with the card please contact the Contact Point for Cross-Border Healthcare. If you are not a citizen of an EU or EEA country and you need a Finnish doctor or medical care using your travel insurance or payment, you should contact Private Healthcare Providers. In case of an emergency please call the emergency number 112.
Safety in Finland
Finland is a very safe country to travel to and it has fairly low crime rates. However, it is always good to have a little common sense and vigilance when travelling anywhere in the world, in order to further minimise the chances for safety issues.
Bigger cities are prone to have pickpockets and Finnish cities are no exception. Therefore, it is advisable not to carry large sums of money or leave your belongings unsupervised. If you do get into trouble, please make a report to the police immediately. First step is to call the emergency number 112