The Cosmopolitan Architect
Alvar Aalto is one of Finland's most international architects. Judging by his archived letters, receipts, account ledgers, telegrams and passports, Aalto is estimated to have made a couple of hundred trips in 1920-1975. These journeys reflect the architect's cosmopolitan character, but also mirror the rise of tourism more generally – Aalto lived and worked in an era when travel in Finland and abroad was developing at a dizzying pace.
Aalto made his earliest trips abroad during his student years in the 1920s, to the capital cities of Finland's neighbours, including Stockholm, Copenhagen and Riga, to view the nearest examples of international architecture. The World's Fair exhibition of architecture and the environment in Gothenburg in 1923 was important for the young architect – it gave him an opportunity to see and explore the latest achievements in the field, and to establish contacts with international colleagues.
Aalto's first trip to the wellsprings of European architecture was on his honeymoon in Italy in 1924. The young architect couple Aino and Alvar flew there in a private plane from Helsinki's Katajanokka harbour. Some of their itinerary is obscure, but the couple are known to have initially stopped off in Vienna. From there they at least went on to Verona, Padua, Venice and Florence, where Aalto drew a few easily identifiable landscapes in his sketchpad. The affinity with the culture, landscape and architecture of the Mediterranean that he formed on his honeymoon drew Aalto again and again to southern Europe and architecture's classical heritage.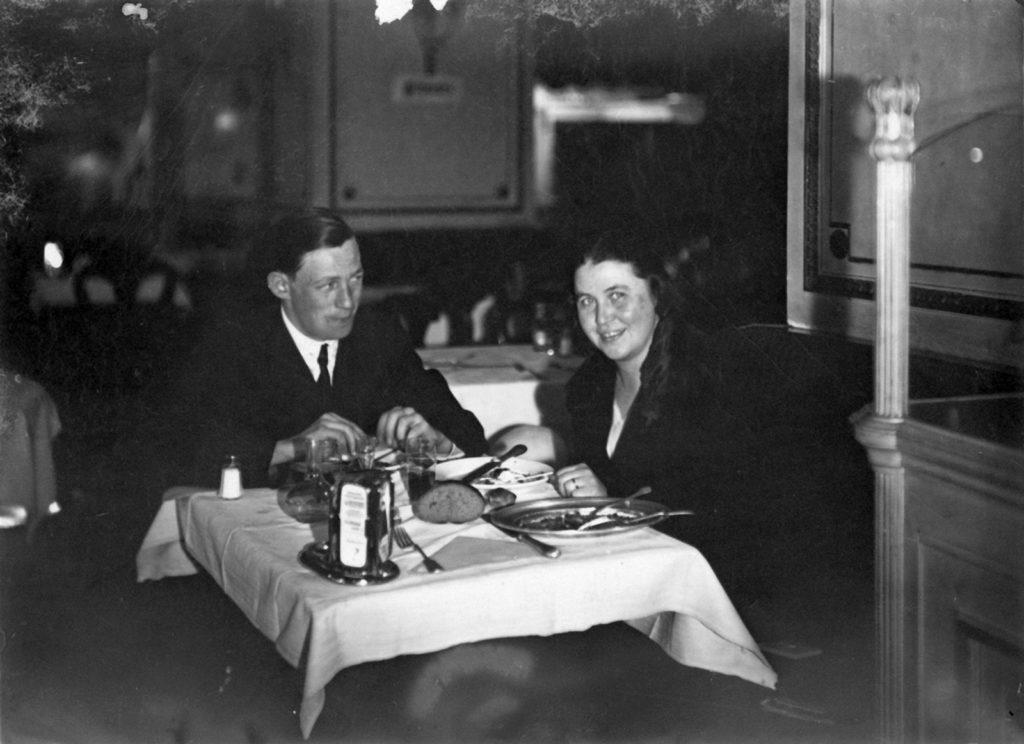 Alvar and Aino Aalto stopped in Vienna on their honeymoon to Italy in 1924. Photo: Alvar Aalto Museum.
Trips to Europe's modern-architecture sites in the 1930s, along with visits to the North American continent in later years, laid the foundations for Aalto's international career. He frequently participated in architecture seminars and symposiums, where he also had a marvellous opportunity to meet colleagues from around the world – several of whom became close friends and family acquaintances. Starting in the 1930s, Aalto was also a member of international architecture associations (including the CIAM), made lecture tours, and was a visiting professor at Massachusetts Institute of Technology, USA.
Especially from the 1950s onwards, Aalto's projects took him all around the world – over the decades, Aalto's architect's office was commissioned to design buildings in a total of 16 different locations abroad. His journeys to continental Europe in his later years were for buildings in the planning stage, several of them being built to completion in Germany. These Europe trips were occasionally combined with holidays, for instance, skiing in the Alps with his second wife, Elissa.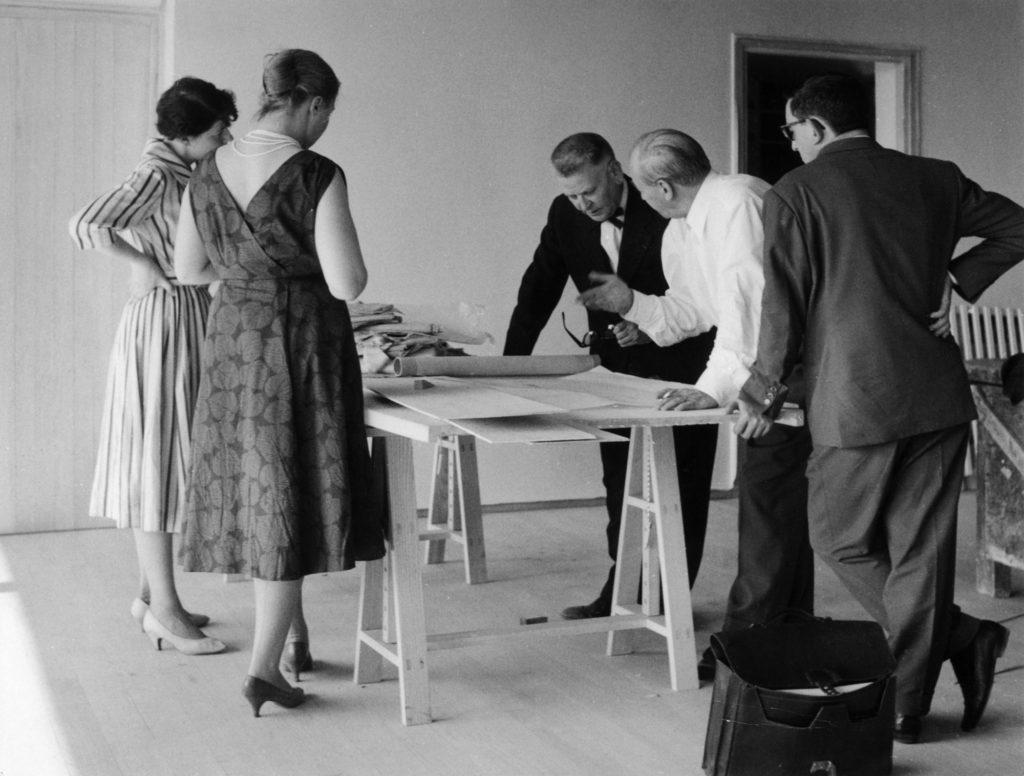 Elissa (second from the left) and Alvar (second from the right) Aalto during the construction of Maison Louis Carré in France. Photo: Alvar Aalto Museum. 
Aalto's designs were not always realized. The design work could take years, and involved numerous consultation trips abroad. Aalto frequently took his sketching pad with him on his travels. On its pages he drew images of landscapes, architettura minore – anonymous folk architecture of small towns – and townscapes seen around the world, sometimes seen from a bird's eye view. He occasionally also brought "architecture souvenirs" back from his trips, which later appeared as motifs, forms and material borrowings in his own buildings – in some of the most surprising places!
Read more about Alvar Aalto on the Alvar Aalto Foundation website: Alvar Aalto – Pioneer of Modern Architecture and Design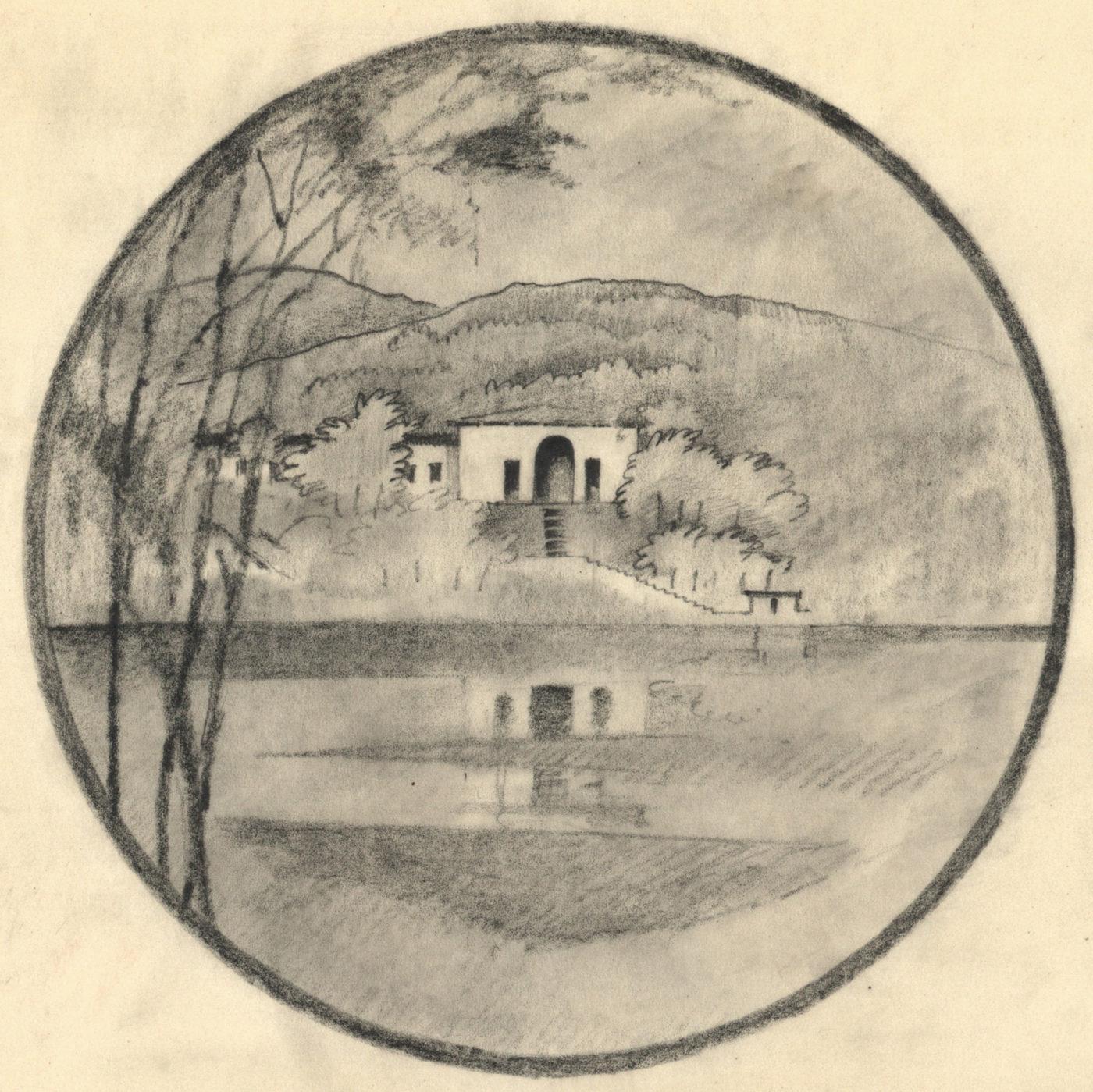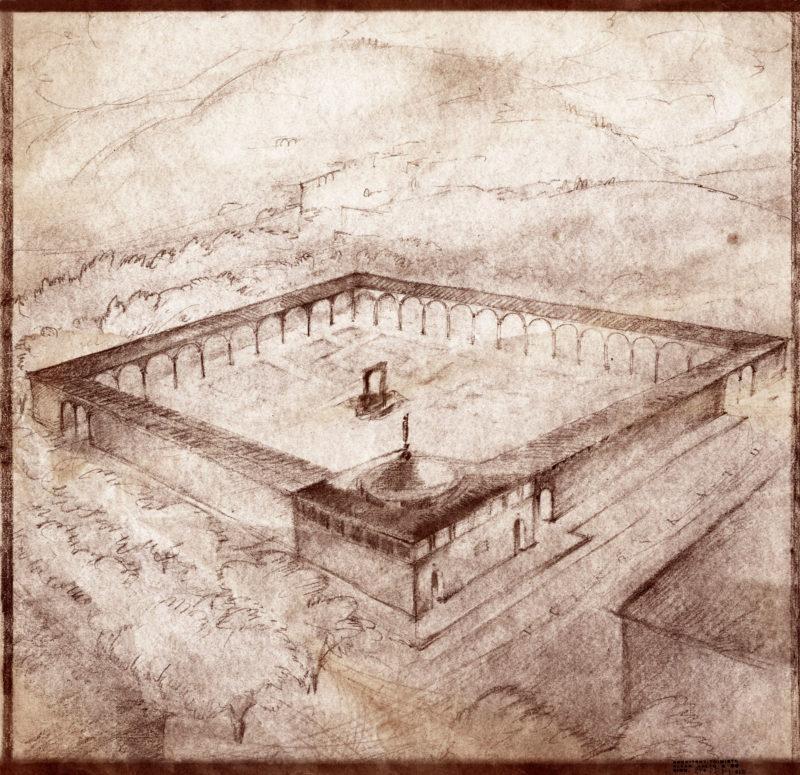 "Whoever has once been bewitched by the magic of small Italian towns, who has but once experienced that feeling of perfection – aroused in me, at least, when memories of the hills of Cagnes, Bergamo, Fiesole emerge from the shadows of my mind - he will be left with a strange bacillus forever circulating in his veins, and the desease caused by it is incurable." Alvar Aalto 1924.